Mighty Mouse - Aniak River Lodge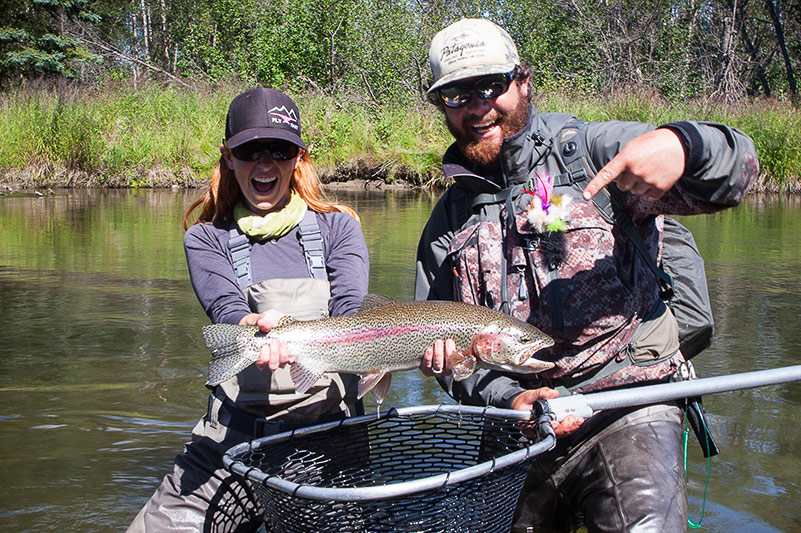 The Fly Out team made a visit this past July to Aniak River Lodge in Western Alaska. If you've already watched the video above, then you'll understand why we are going back. The mousing on the Aniak is unlike anything we've ever experienced in Alaska - anywhere. Despite plenty of salmon eggs and flesh underwater, these rainbows are consistently looking up! Katie and I spent 90% of the time throwing a mouse pattern, but you could certainly wear yourself out "catching" with leeches, flesh patterns, beads, etc. The guides were great, the accommodations are clean and comfortable, and the fishing was off the charts. I won't mention numbers to avoid the onslaught of doubters and naysayers, but let's just say, the trout population is impressive. Serious anglers that would like to experience top water action with quality Alaska rainbows, look no further.
For 2015, we made early reservations for the prime mousing weeks at Aniak River Lodge. We'd like you to join us. Limited spots available. Call 406.781.7184 or Email for booking inquiries.
SPECIAL MOUSING WEEKS - $5,395 Per Person

'What is "INCLUDED" in my Aniak fishing trip package?
7-nights lodging / 6-days of guided fishing with experienced guides
All flies and terminal tackle
Airport pickup by ARL staff in Aniak
Cabin and/or Weatherport Accommodations - based on double occupancy
Daily Room Service
Delicious meals
Soft drinks, fruit juices, bottled water and snacks
Guide-operated boat, outboard, cooler, hot coffee thermos, and prepared lunches on fishing days.
What is "NOT INCLUDED" in my Aniak fishing trip package?
Your commercial airfare to Aniak, Alaska
Personal expenditures
Gratuities for the guides and staff
Hotel in Anchorage awaiting flight into Aniak (if applicable)
Extra day hotel stays in Aniak or Anchorage (if applicable)
Airport departure taxes (if applicable)
Travel Insurance
Fly Fishing Equipment (rods, reels, waders, etc.)
Cold weather/water gear
Trip Gallery
No video selected.