Via The Spokesman-Review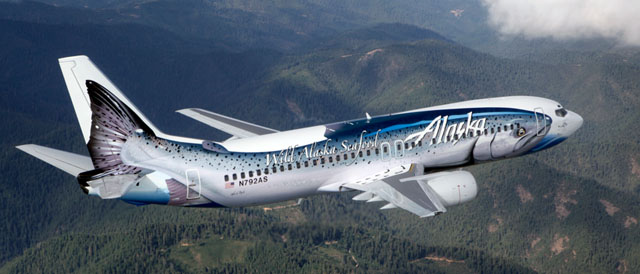 FISHING IN YOUR DREAMS — Alaska Airlines and the Alaska Seafood Marketing Institute on Monday unveiled the world's largest king salmon. Stretching nearly 129 feet, the fish-themed design will adorn a Boeing 737-800 this fall.

The new "Salmon-Thirty-Salmon II" design is derived from an earlier version of the paint scheme Alaska Airlines unveiled on a 737-400 in 2005, which was re-painted with the carrier's traditional Eskimo livery last year.

The new design is about nine feet longer than the original 'salmon plane' and also features fish scales on the winglets and a salmon-pink colored "Alaska" script across the fuselage.

"This airplane celebrates Alaska Airlines' unique relationship with the people and communities of Alaska and underscores our air transport commitment to the state's seafood industry," said Marilyn Romano, Alaska Airlines' regional vice president of the state of Alaska.

Last year, Alaska Airlines flew nearly 25 million pounds of seafood from Alaska to markets in the United States, Mexico and Canada.

And it flew a lot of fishermen back and forth, too.

No video selected.