Fish Stories: A 2014 Alaska Rainbow Trout To Remember
The story behind one of the most beautiful Alaska trout of 2014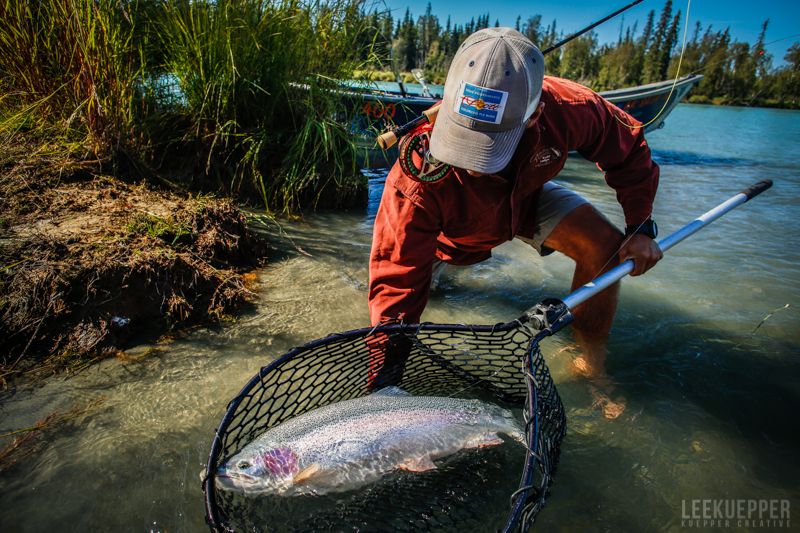 As many of you have probably seen, California fishing guide, Anthony Carruesco, put one the most beautiful trout that we have ever seen to hand last summer. Hovering just below the 3-foot range, AC's fish is a perfect representation of how spectacular Alaska fishing can be.
Fly Out caught up with Anthony to get the low down on that day, and the epic trout that made it so memorable.
---
FO: What was the day like leading up to hooking into that monster? What were you doing in AK?
AC: My fiancé, Erika, and I had traveled up to Alaska to attend our good friend, Lee Kuepper's, wedding. To my benefit, Lee just so happens to be a top shelf guide on the Kenai River, and was able to finagle a few days off prior to the wedding to soak us some leisure time on the water with a few of us boys. It was a laid back, beer drinkin' type of day, and I certainly wasn't hard pressed to catch many fish. Just being out there with a good friend that I hadn't seen in over a year, catching up, and enjoying the 70 degree summer weather was the only agenda we had.
Interestingly enough, while we were sitting at the ramp rigging up rods, I decided to pull all the line off of my reel for no real reason in particular. When I got about 10 feet into the backing, I found a knot where the backing had doubled over itself and locked the line from coming out. Kharma......? Maybe Fate......? Looking back now, catching this potential game-stopper would prove to be pretty damn important about four hours later.
FO: How was the fishing?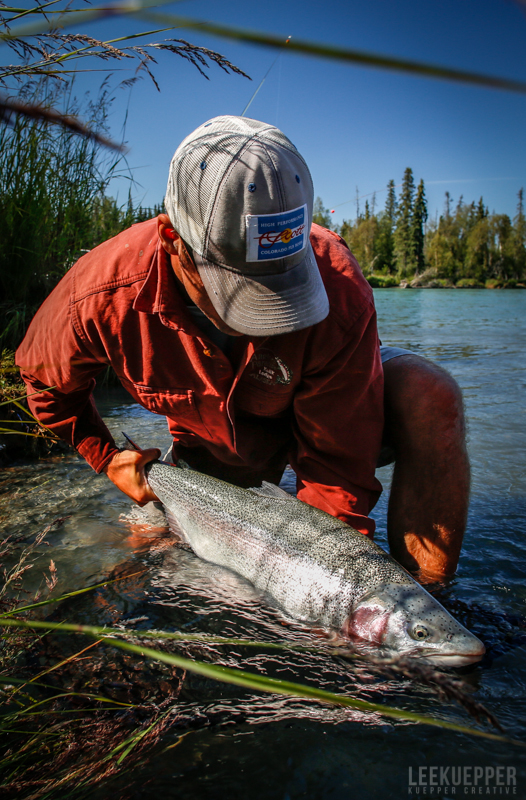 AC: We'd been pounding the banks with flesh and hitting solid fish pretty consistently all morning. We had put some good two footers to the net and I was happy with that. We were getting towards the end of the float – coming along a big shady bend when the bobber disappeared again.
FO: Did you know it was huge when you hooked it?
AC: Yes. Though honestly, for the first 10 seconds I thought it mayhave been a Sockeye snagged in the butt.
FO: How was the fight?
AC: The initial run was impressive. It shot directly upriver and was quickly into my backing, similar to a coastal Steelhead from back home. Lee was pulling on the sticks hard to try and lessen the distance, but the current in this main flow was strong and it was all he could do to slow us down. I bent the rod to the cork and turned his head back downriver. Fortunately, you don't have to be that tender with 12lb flouro. After some strong, steady head shakes and a few more runs, he rose from the blue water and just hovered near the surface. Lee, not thinking that it was even close to ready yet, was focused on finding a place to eddy out. I looked back at Lee and said "I think he may be ready." You don't expect the fat kids to have that much stamina anyways.
FO: What was the most remarkable thing about that fish?
AC: I was shocked by how flawless the fish was. Not a single scar or blemish on her. Many of the big fish on Alaska's popular waters seem to often have some battle scars from their angling encounters earlier in life. This fish was clean as a whistle. The girth was ridiculous. My arms were sore from holding it out of the water for the few seconds for that "Hero Shot." As I was releasing it, it finally set in how spectacular this fish was. As it eased back into the blue, and the broad shoulders faded away, we all just sat around for a few minutes in quiet awe.
Hands down the biggest trout I've held, and probably will ever hold. As a guide myself, I was just happy to be the one holding the rod that day. Catching a fish like that is a once in a lifetime experience. I feel very fortunate.