5 Common Traits Of Productive Flies
Be picky when deciding on which flies get to take a swim. Here's what you want to look for.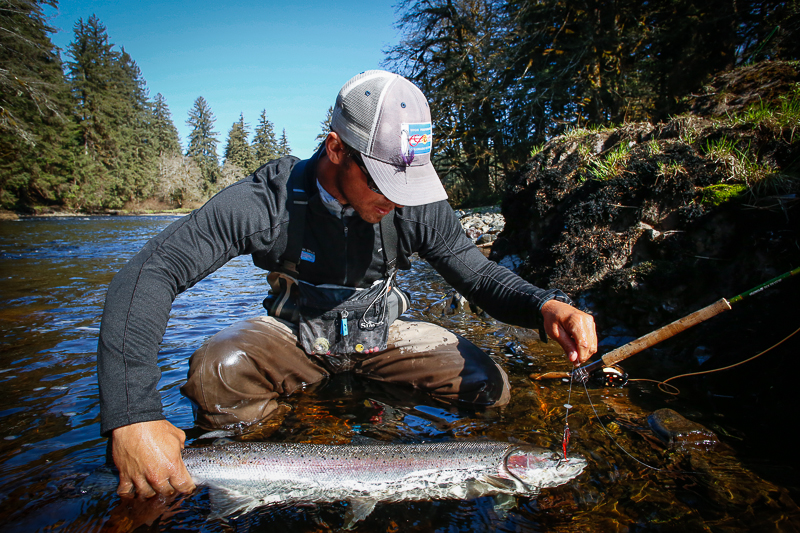 Whether you are tying your flies, or buying them, there are 5 traits to keep in the forefront of your mind when making decisions on which flies are worthy of getting wet. Patterns that take advantage of each one of these 5 traits are both effective and easy to cast. Here are the top 5 traits that the flies in your box should always have.
Color.
It is important to use colors the fish are interested in. Resident species such as trout and dolly varden generally prefer more natural, earth tone colors. While salmon, on the other hand, are normally willing to chase around bright, vibrant patterns in pinks, purples, and chartruse.
During dirty or high water conditions, you can do especially well using multi-colored, high contrast flies. Black/White, Green/Yellow, and Purple/Pink can all produce during these adverse conditions.
Hook Orientation
The direction that your hook bend is facing should depend on where you are fishing in the water column. A fly fished near the bottom should always have the hook point facing up, as a downward facing hook will snag up and require sharpening more often. You will find this in numerous sculpin patterns, so beware.
Materials and Movement
Choose a material that moves the way you want it to while being fished. In slow to moderate currents, natural materials like rabbit, maribou, and arctic fox have a silky, smooth flow. Other materials such as deer hair, calf tail, and schlappen hackle have stiffer fibers that hold their shape well, even against heavy current.
Castability
Many flies recently have trended towards being very large and bulky. While they may look impressive, they are a burden to cast. Natural materials like rabbit fur provide great movement, but they also absorb a lot of water. This usually makes them heavy and cumbersome to cast. Synthetic materials, like craft fur, not only give a fly good underwater movement, but also make them easy to cast.
Stability
Stability relates to how the fly tracks when underwater. Flies that are unstable tend to roll or flip over when pushed on by the current. Lead eyes are often used in many trout and salmon patterns. If the lead eyes are on the wrong side, the fly will roll to the wrong position. Make sure that your fly tracks the way it is supposed to. It will result in more fish.