As Seen in Gray's Sporting Journal (May – June 2009)
By: Fly Out Ambassador Bob White
Painting By: Bob White www.bobwhitestudio.com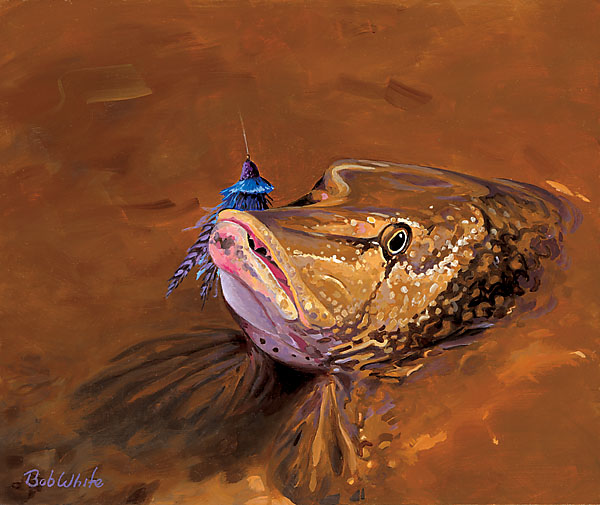 "Gawd, I hate kids!" ~ Rusty

It was late June, still spring in Alaska, and the soft twilight had lingered long past midnight when I found Rusty sitting alone in the dusk, next to an unlit fire. There was a mostly empty bottle of Jack Daniel's and two tin cups on the big spruce round to one side, and he was softly mumbling to himself. "I was wondering when you'd get here." He said over his shoulder as I approached.

"How did you know it was me and not some grumpy old brown bear looking for an easy meal?"

"No bear would dare mess with me tonight." He grumbled. "I'm in too foul a mood... Whiskey?"

"Why not." I said. "Mind if I light a fire?" There's nothing as sad as two fishing guides drinking whiskey in the dark. I knew that the glow of a fire would change the mood and poured a little diesel over the cord wood that had been laid in anticipation of the next get together. Rusty tossed a wooden match to light it.

He grunted as he poured a generous measure of the amber liquid into each of the tin cups, and we sat there, sipping our whiskey without speaking for a good long time. The dry spruce crackled and popped as it caught. Rusty hates complainers, has no time for whiners, and generally avoids expressing displeasure with any of The Boss' decisions... but he was at the end of his rope. "What the hell are we going to do with that pack of rug rats tomorrow." He finally moaned. "Gawd... I hate kids."

Anyone who knows Rusty will tell you that he harbors no ill will towards children in general... or anyone else for that matter. Simply put, Rusty loves to catch fish and judges an individual solely on his or her ability to do so. It chafes him to spend time with people who can't fish, and conversely, he enjoys being with anyone who's good at it. I've often thought that he'd have a wonderful day sharing a boat with vhxeyeph Stalin and Mao Tse-Tung if the fish were biting.

"Aw... it'll be all right." I said, trying to cheer him up. "We'll take them over to Spider Bay and fish for pike in the morning. Then we'll go for a boat ride and find a nice beach somewhere across the lake for a big fire and shore lunch. Afterwards they'll skip stones and go swimming... and before you know it... the day'll be over."

"That's just dandy." He wailed. "The best run of Kings in three years... and I'm going on a pikenic!"

"Honey, it's time to get up... honey?" Lisa asked, gently shaking my shoulder. "Ooooh... you look bad. Let me get you a cup of coffee."

"Ahhhhg..." I moaned into my pillow. "How much time do I have?"

"Not nearly enough from what I can see... now drink this. I'll see you up at the 'Big House' in fifteen minutes." She said. "And... honey?"

"Yeah?"

"I hope the other guy looks worse."

I smiled... I was quite sure that he did.

No video selected.