Late is better than never!

No video selected.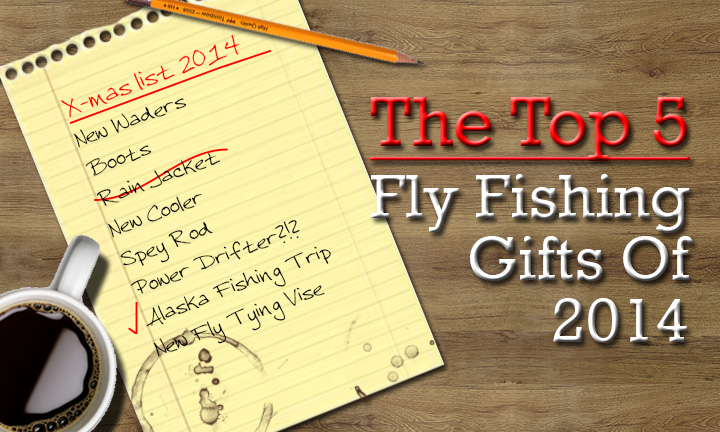 Tis' the season once again. The time for reckoning has come, testing how well you were listening to your loved ones throughout the year. If it is a fly fisherman you are shopping for, the way I see it, you have two options. You could peruse through the pages of the fly fishing catalogs found in your bathroom, analyzing the most worn and drool soaked pages, or you can follow along for the next few days as I outline the top 5 gifts that we fly fisherman could ever ask for. So, forget the flannel onesie pajamas, and be sure to drop one of these little gems into the wading boots hung by the chimney with care.
Stanley Mountain Coffee System
Before today there were two options for anglers regarding riverside coffee. You could pack in a heavy and constantly cooling full thermos, or pack in all the gear necessary to boil a pot. Breathe easy now friends, these tough, harrowing days are now over. Enter, the Mountain Coffee system by Stanley.
This product, a brilliantly designed coffee French press and coffee transport device made by Stanley, is an all-in-one, riverside rejuvenation apparatus. I had the opportunity to play with one of these the other day and was thoroughly impressed. Similar to those little Russian nesting dolls, I kept removing layers, and kept finding more great features. There seemed to be no end. I am not going to completely spoil the surprise for you, so I'll let you check out the video and website attached below and make up your mind for yourself. I'm guessing you will be impressed, and at $50 it's not breaking the bank.
Buy Stanley Mountain Vacuum Coffee System (MSRP - $50)
Tacky Fly Box
Now, I must say that #4 on my list is definitely a product that I was initially skeptical about. How much more could a fly box improve? I very much so understood the pros and cons of different fly box variations. The constant removal and replacement of flies throughout the year generally leaves my once unadulterated foam fly boxes looking like they had a make out session with a cheese grater. Not to mention the hassle of picking up your fly box and finding that most of them have fallen out and are now scattered throughout your box. Oh, our first world problems.
The primary improvement is found in the silicon layer that holds the flies. It is immune to break down and fly slippage. Major score.
Ultimately, the Tacky Fly box would be a great addition to any angler's arsenal and at $24.95, a perfect stocking stuffer. I look forward to what the Tacky team comes out with next. Maybe, (cough...cough...hint...hint) a larger version that can hold all of our large salmon and trout streamers?
Buy Tacky Fly Box (MSRP - 24.95)
Costa Del Mar Permit
There is no doubt that Costa has developed a great reputation in the outdoor community. Regarded as the best in their business, Costa perfectly balances form and function. They utilize some of the best glass in the industry in combination with stylish designs that would have Mr. Hasselhoff himself swooning.
When on the water, I prefer to have a pair of glasses that fully cover my field of view. The Permit series fits the bill perfectly with their large coverage, lightweight frame, and anti-slippage lining from temple to temple. These are my go to shades on a day-to-day basis. Definitely at the higher end of the price range, but as with all of Costa's product, trust me, they are well worth the cost.
Buy Costa Del Mar Permit (MSRP: $249)
Loop Evotec G4 Series Fly Reel
A few years back the Loop Evotec series fly reels were updated from their older design. What spawned from this revamping is a fly reel that has all of the powerful features of the Opti series, but carries a lower price tag. Carrying all the same Power Matrix drag technology as the Opti and Classic series, the Evotec will stand toe to toe with any other reels out there. As a guide with a boat that has diamond plated flooring, I can attest first hand that this reel is tough as nails.
The big kicker here is that the Power Matrix Drag System allows you to custom set the maximum drag pressure, a powerful and under utilized tool. Think about it, you can set your drag to match your tippet strength and not have to worry about breaking one off because of too much pressure. In the David vs. Goliath type of fishing battles that we find ourselves in up here in Alaska, the EVOTEC is a welcome and necessary piece of insurance.
Buy Loop Evotec G4 (MSRP - $479)
Yeti Hopper
I was first introduced to Yeti a few years back. Intrigued about how a cooler can create such buzz, I had to investigate more. What I found was a bulletproof product that is as versatile as it is functional. The YETI Hopper is the first fully leak-proof soft sided cooler of its kind. As with all their coolers, it is extremely durable, reliable, and ridiculously efficient at keeping things cold. Seriously, if they made a snowman size, Frosty himself could live in Florida year round.

Personally, I prefer a soft cooler in my boat due to space being at a premium. At 12"x22," the hopper fits the bill perfectly. Do yourself a favor and invest in one of these bad boys, and check off another item on your gear list that you will never have to worry about again.

Buy Yeti Hopper (MSRP - $299)

No video selected.