9 Tips

No video selected.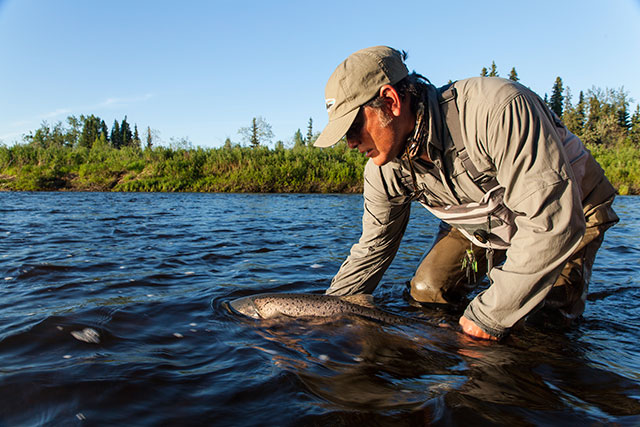 By Cory Luoma
Oh no, not another post on C&R tips and techniques! I know, I know, everyone knows about these bullet points. But in my experience, many of these best practices for catch-and-release are ignored during the excitement of the moment. It's just natural - I'm guilty of some slip ups also. Fish are brought in and banged against rocks. Big rainbows are held out of the water for 5 minute photo sessions. Hasty hook removal rips cartlidge on small fish. A fat char's guts are squeezed and compromised for the one-hander shot. There's no time to rescucitate because there are so many more fish to catch - how about just under hand tossing it into the fast current.
The truth is, if we're goint to practice successful C&R, we need to follow the commandments - religiously. For most of us, that means slowing down, and doing the things that we already know about taking good care of fish. Don't get in a hurry. The photos can wait. The long cast, the secret spot, the big fish, and the hero photos mean nothing without the resource. Here are a few bullet point reminders:
Pinch the barb on your hook flat so it's easily removed.
Choose your tackle wisely, plan ahead.
Land the fish as quickly and carefully as possible to avoid extreme exhaustion and injury near shore/boat.
Keep the fish in the water and resuscitate it. Handle the fish gently with wet hands or moist gloves.
If you must net it, use a release net made of soft knotless fabric and keep the fish under water in the net. Don't lift the fish up in the air or squeeze it. Minimize time out of the water.
Don't sacrifice the fish for the photo. Never squeeze your fish. Keep fingers away from gills and eyes. Minimize handling.
If you plan to keep a fish or two for the table, let the hook-up decide what you kill. Many people who claim to practice catch and release are in fact doing what commercial fishermen call "high-grading". They are sorting out the smaller fish, looking for the bigger fish. If a trophy size fish is hooked in the lip for an easy release – let it go. If you catch a smaller fish that is bleeding – keep it.
Locate the hook, then decide how to approach it. Back the hook out with hemostats or other hook removal tool.
Fish responsibly. Alter your method or your gear to minimize hooking mortality. That may mean going to circle hooks or setting the hook a little sooner. Apply deeply hooked fish to your bag limit and release the fish with good survivable hookup. If we are responsible in our approach today, it will mean more fish in the future for everyone.
No video selected.