Fishing Photography - 9 Tips for Better Fishing Images
Part 3 of 3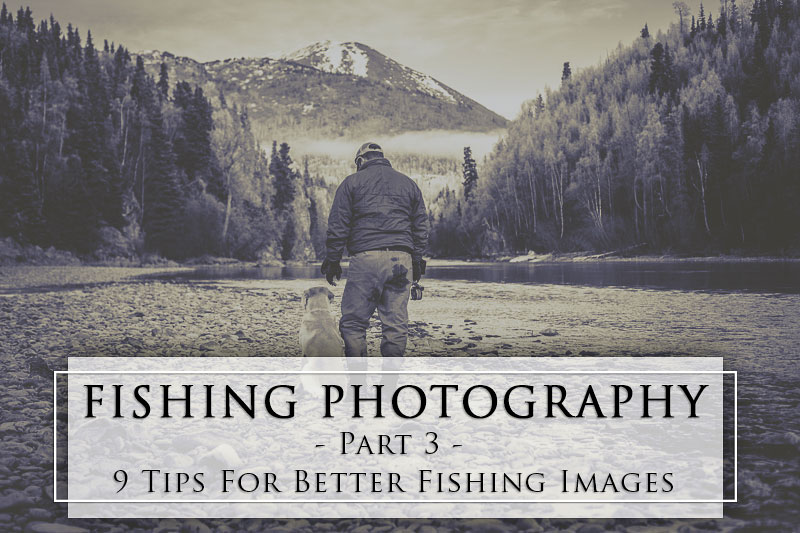 Growing my skills in the field of photography has been a passion of mine for many years now. We fly anglers are so fortunate to be surrounded by such relentless, awe-inspiring beauty. For this reason alone, I like to pick up a camera almost as much as I do the rod. Throughout the years, I have learned a lot and have realized a few common tips that really helped improve my imagery.
Look at the big picture
When searching for that perfect shot, I always make sure to try and capture the scale of where I am fishing. One of my favorite methods in doing so is by stepping way back with telephoto glass, allowing the lens to pull the angler and their surroundings into perspective. It's amazing how background objects like trees or mountains are pulled into the frame, allowing the viewer to grasp the full scope of the environment.
Channel your inner Miss. Cleo
After spending years on the river, anglers begin to almost develop a psychic sense of what a fish is going to do. Most of the time this very unique skill is used to help land a fish more efficiently. Not only is this trait ideal for fishing, but as a photographer this trait can be used to predict special moments throughout the day. Acrobatics, blistering fast runs, and the look of despair on your buddies face when he's been manhandled all have an air of predictability when one is channeling their inner psychic. Make sure you're ready.
All in the details.
Macro photography is yet another way that we can change the way our sport is viewed. Instead of grabbing large scale images, stick to the specifics. Scales, fins, and eyes, all are intricacies that are unique to fishing. Capture the details and give focus to another level of beauty.
Part 2 - Understanding Your Camera's Priority Modes
A New Angle
While it is very easy to grab the camera and start clicking away, changing your camera angle will add a whole new dimension to your shots. Dropping your camera low to the ground or raising it high above your subject can produce some stunning frames with angles not normally seen.
Find the Lines
Any photographer worth their weight will tell you that simply having good gear is only half of the equation in producing a high quality and compelling image. The big difference lies heavily on composition. Finding lines and leading edges will allow you to guide your viewer's eyes where you want them to go. While this doesn't come naturally to everyone, it can be learned. Shorelines, skylines, and other natural features placed in the image properly can really make your photos stand out from the rest.
Don't miss the golden hour
Hailed as one of the most optimal times to grab some stellar natural light, the golden hour has produced some incredible images with its warm, soft glow. Coincidentally, this "witching hour" also can provide great fishing as well. Rod or lens? The choice is yours.
Frame your subject
Similar to finding lines in your scene, framing your subject is another way to take your images to the next level. Framing can really be done with all kinds of objects. Trees, shorelines and other natural borders are out there for your use. You need to keep your eyes open.
Clouds can be a game changer
Many times finding spectacular clouds in your images happens well after the time you take the shot. Regardless of if you meant to grab them or not, interesting cloud formations can really add a whole other dimension to your images. They help soften harsh, bright skies and can create a variety of different feelings. Keep your eyes to the sky and start finding that your images may have just stepped up another notch.
Change your focus button
If there was one specific technical tip that I have picked up over the years that has helped me the most, it would be transferring my focus to another button other than the shutter. Transferring this focus to the back can be fairly easy to do and is available on most DLSR cameras. Being able to continuously hit the shutter without waiting for refocus has proved its worth many times over, especially in those moments that can be quickly missed.
*Check out the rest of our Fly Fishing Photography Series:
Part 1 - Picking The Right Lens
Part 2 - Understanding Your Cameras Priority Modes
---
Lee Kuepper is professional guide now calling the Kenai River home. He is a co-owner of Alaska's Angling Addiction, chasing the Kenai's monster kings and fabled trout on a regular basis. He is also a member of Loop USA's prostaff and a Certified Fly Casting Instructor through the FFF.