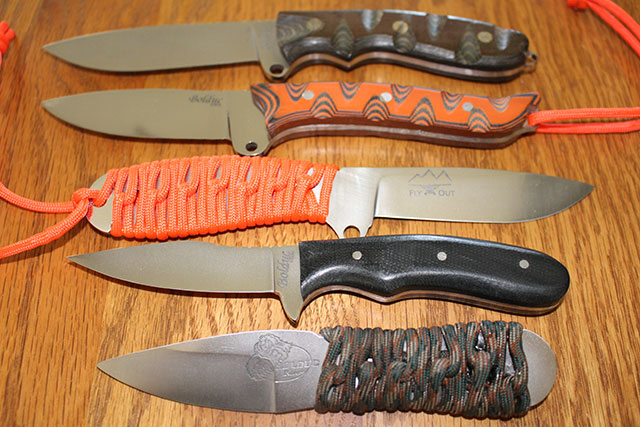 We asked specialty knife maker, Gary Bolduc, to design and manufacture a special edition Fly Out knife that is extremely tough and multi-functional, and engraved with our signature bush plane logo. It is a fantastic utility, hunting, backpacking, and all purpose knife that is a tough little monster! It has a stone wash finish 3.5" blade, para cord wrap 4" handle built out of S35VN stainless steel with a kydex sheath. The knife is super slim, yet tough as nails, extremely light weight, with 2 lanyard holes for pole lashing or handle pull & spine gimping for finger control. Holes in kydex sheath allow you to tie it anywhere you want or use the belt loop to carry.
Bolduc Knives is synonymous with quality when it comes to the knife industry for sportsmen. Many of his hunting and fishing knives are inspired by Alaska, and we're proud to have one of his products bear the Fly Out brand. You can purchase a Fly Out knife by emailing us at [email protected]. These knives start at $150 + shipping. Different knife handles are available upon request.
About Gary:
Raised as a young man in Vermont attracted my interest to the views of the rolling hills, country back roads and flowing streams. Around eight or nine years of age, I started exploring the geography within a 2 or 3 mile radius of my home in the countryside. I would collect stones, odd pieces of wood, or whatever I thought was interesting. I always wondered what was over the next hill, usually climbing a tree for a better vision if I dared not to venture any further. As I grew older, I lost this fear and traveled as far as I could in one day, of course, coming home exhausted. Once I turned sixteen and obtained a driver's license, I was allowed to explore vast areas via back country roads. I would stop at interesting streams, apple orchards gone wild and maple tree stands of forest for a new exploration, all of the time watching for deer, woodchucks, partridge, hawks, squirrels and whatever else I would happen upon or would cross my path.