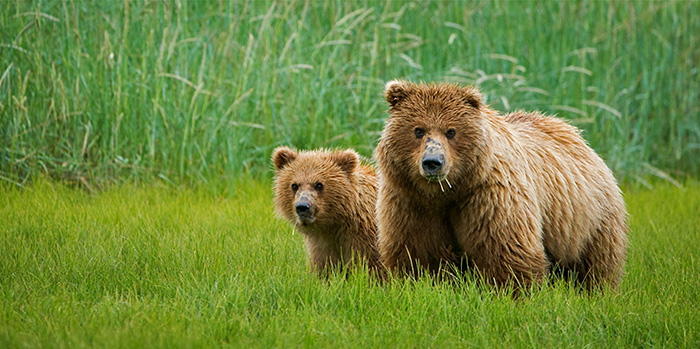 Join Redoubt Mountain Lodge for a BEAR adventure only they can take you on.
Pioneered through multiple years of research, this tour is unlike anything offered throughout Alaska. Redoubt Mountain Lodge holds exclusive rights for access into this area during this limited window of intense bear activity. They will not be sharing this location with anyone except the bears! The location has been closely watched for several years documenting the abundance of Alaskan coastal brown bears, their behavior and migratory patterns. Finally they have the logistics arranged, transportation in place and the approval granted and are ready to begin taking adventurous enthusiasts on a bear viewing experience truly unique to anything offered around the world.
This is a coastal area rich in sedge grass, vibrant salt marches and tidal flats littered with clams. Watch enormous boars (males), adolescences, sows with cubs and solitary bears as they go about their daily lives foraging, breeding and being bears.
This tour has it all! Your day will begin with a short helicopter flight from the lodge with an amazing aerial tour viewing numerous bears from the air. Typical flight see tours see 30 or more bears. Helicopter transportation and aerial tour will be followed by a mix of walking and boating throughout a beautiful untouched landscape. The ability to walk 2-3 miles (minimum) is required for all interested guests. Terrain in relatively flat; however, there will be small creeks and muddy areas to traverse. A Redoubt Mountain Lodge guide will be with you the entire day. Daily group sizes are small at only 2 - 4 guests per trip.

Sample Package - 3-Day / 3-Night All-Inclusive Bear Viewing and Fishing Vacation
Day 1 (arrival to lodge):
Enjoy 8-10 hrs guided activities on our home waters of Crescent Lake. Hike the surrounding Chigmit Mountains with a variety of trails to choose from. Target Arctic Char, Dolly Varden and Lake Trout on the lake, outlet river and inlet streams. Paddle board, kayak, photograph or just enjoy the scenery and area wildlife. Take a mid-day break for lunch back at the lodge and head back out adventure in Alaska's unlimited daylight. Get some rest tonight because you'll need it for tomorrow!
Day 2:
Enjoy a made to order breakfast (available everyday), grab your camera and lace-up your boots! Head to the helicopter and prepare for an adventure only Redoubt Mountain Lodge can provide. Depart RML and soak up the surrounding area from an aerial perspective. Fly pass mountain peaks, an active volcano and a nearby coastal area full of bears. Upon landing be met by your guide and boat go get up close with those bears you saw from the air. The days tour will include both boating and walking. Expected time on ground will range from 4-6hrs. Once you have had your fill, fly back to the lodge for more guided activities or relaxation around the property.
Day 3:
Enjoy another fully guided day at Redoubt Mountain Lodge and all our adventures. Choose to supplement part of your day with a helicopter flight see viewing more of Lake Clark National Park.
*Helicopter fly-outs are weather dependent and schedule is subject to change. Availability for the special package is filling fast. Be one of the 20 guests that will get to access this exclusive area. Please call or email with any questions.