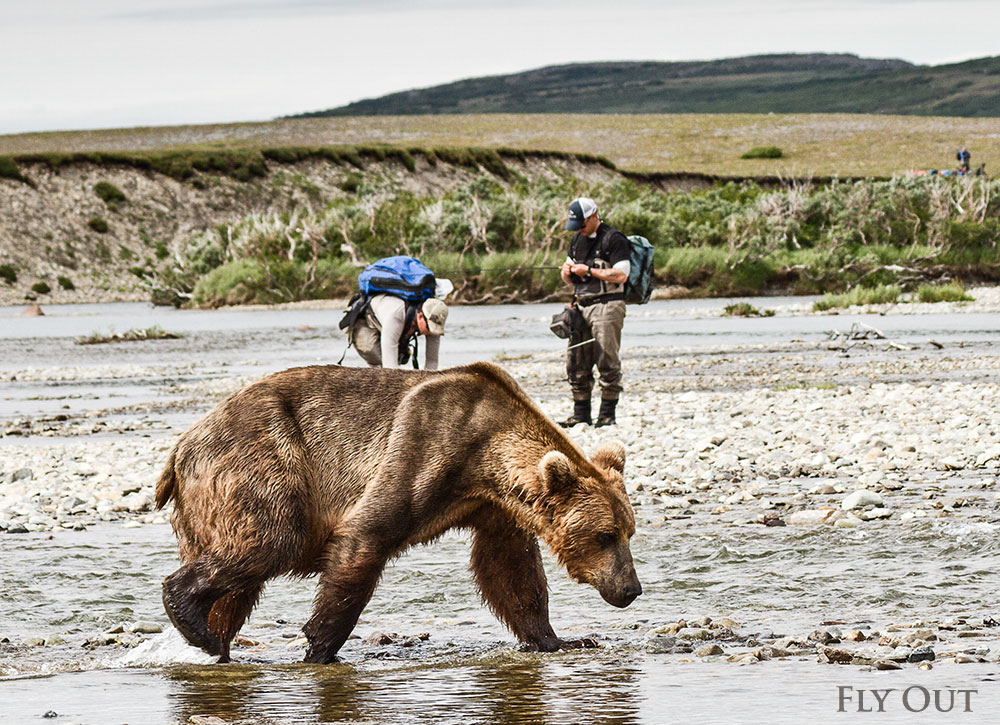 I have heard many people say that one of the most enjoyable parts of a vacation is the preparation for it. Well, I got to say; I think that's a bunch of bushwa! I hate wading through websites, psychoanalyzing email correspondence, and picking the brains of my half-wit bar mates that have "done it all". And, when it comes to vacations in Alaska, there are just too many options. To make things worse, the worldwide web is completely saturated with ridiculous claims, search engine manipulation, and pure marketing dung from the Great North. I won't even mention the reality TV shows.
My commentary is not meant to diminish the majesty of Alaska. I myself have built a business around the jaw dropping fishing and adventure opportunities in the 49th state. The landscapes, fishing quality, and wildness are simply incomparable. Unfortunately, trip planning for Alaska can be equally mind-boggling. Consider the following: Fish runs, lodge rates, quality of accommodations, guide reputation, discounts, safety, inclusions, exclusions, the dining program, travel details, availability, lodge culture, scenery, non-fishing activities, insurance, fish species, gear, and gratuity. Got it?
Take a deep breath and start here; it's all worth it. Here are 5 basic tips for planning a trip to Alaska.
1. Consult an Alaska Expert or Travel Specialist
What every angler and adventure traveler wants is a perfect fit per their interests. Don't play Alaska Lodge roulette! Find a reputable travel specialist that is experienced with AK – Ehem! These services are free. There are many guides, veteran anglers, and travel professionals that have first hand knowledge of the different Alaska adventure and specific lodges. Whether you are planning your first trip to the Last Frontier, or you would like a 2nd opinion on a new adventure, there are resources out there to help. DO YOUR HOMEWORK! Or, better yet, let someone else do it for you.
2. Book Early
The best lodges in Alaska have incredibly high return rates. In many cases, guests have the first right of refusal for returning the same time next year, which means there can be few openings for new anglers. Your best chance to get a high-demand date is to book 6-12 months in advance.
3. Choosing the Right Type of Operation
There are many types of fishing and adventure offerings in Alaska. In fact, it's an outright wilderness of options out there. Each lodge/company is unique in their culture, fishing operations, and other services they offer. Trying to classify the variety is a task – one with a lot of gray area. With that said, this is my attempt to categorize the Alaska fishing trip types:
• Fly Out Lodge ($$$) – The most exclusive and luxury way to see and fish Alaska. These operations fly to different remote rivers, lakes and ocean locations daily. A fly out lodge allows you to experience the wonderful variety of Alaska, in addition to accessing the most remote fisheries in North America. For many, just the views from the air and the daily flight experience are worth the price of admission. In addition to having the most versatile and mobile fishing options, in general, Fly Out lodges offer extraordinary accommodations and dining.
• Fly-In or Wilderness Lodges ($$) – Naturally, these lodges are located in remote locations, away from the road system, and only accessibly by air. A fly-in or wilderness lodge can be located on a lake system, ocean bay, or river; and it is this homewater that is the foundation for their fishing programs. This type of operation does not have a daily fly out routine, but sometimes, fly out options may be available as an add-on. The meals and accommodations vary, from borderline luxury to "homestyle" country cabin and cooking.
• Float Trips ($ - $$) – A classic Alaska adventure focusing on a genuine wilderness experience, self-reliance, and a world-class fishing adventure. Despite the "roughing-it" nature of a float trip, most outfitters provide tent and bedding accommodations that are surprisingly comfortable, and the food always tastes good after a long day on the river. This is a great option for those fishermen and women who are looking for quality in fishing without all the fluff. If adventure is your passion, a float trip may be the best fit and value for your vacation.
• Guide Service ($) – Individuals with a reputation. That is how we define the "guide service" category. Their strength is in intimate knowledge of the fishery, personal attention, and outstanding customer service. In most cases, a guide service will be able to provide food and accommodations with partnering lodging.
4. Look for Discounts and Cancellation Prices
Often times, lodges have discounted weeks that are traditionally difficult to book. These weeks can be a great deal if you act on them while they are available. And, you won't sacrifice much in your Alaska experience or world-class fishing. On occasion, lodges will offer up to 50% off as a result of a last minute cancellation. The most up-to-date lodge specials can be found at AlaskaFlyOut.com.
5. Find Reviews
User reviews are an excellent way to get genuine and honest information on a particular lodge, outfitter, or operation. Guest testimonials displayed on a company website are mostly handpicked, and usually a small sample size of the overall experience. Customer reviews are raw, showing the true quality of the product. Don't limit yourself to just looking at the rating or score, but read the comments, where the most detailed and valuable information can be found. Popular review sites that are linked through AlaskaFlyOut.com are Trip Advisor and Yelp.