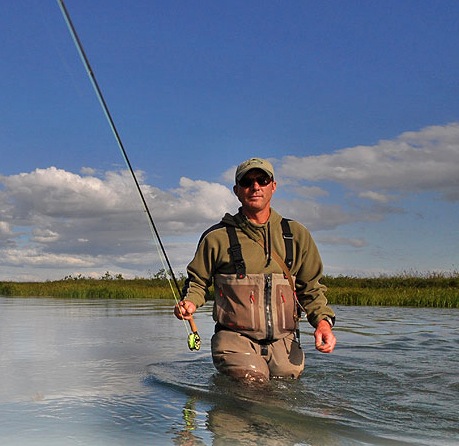 Brad Waitman at Igiugig Lodge graciously invited us to his lodge for a couple days of fishing and filming for our recent fly fishing film, Long Live the King. Located at the mouth of the Kvichak River and the outlet of Alaska's famous Lake Iliamna, sits his humble, family-run fishing lodge. The beach front location on the giant lake makes it feel you are on the ocean somewhere - maybe the Oregon Coast. Waves were licking the shore, and we really felt like we were out there - in the REAL Alaska. Brad runs a small operation, hosting just 4-6 guests per week. Brad is a pilot and a guide. So, he flies a Cessna 206 to many different fisheries in Bristol Bay and Katmai National Park, where he puts his 29+ years of Alaska guiding experience to work for you. The truth is, the guy is a fish hound. I mean he is fish nuts! One of those guys that has a sixth sense, and just knows how find fish, with every type of tackle and skill level. We asked Brad to try put us on King Salmon on fly rods on the very large Nushagak River, which does not naturally lend itself to fly fishing. Nevertheless, Brad was able to put us in the right spots at the right time for outstanding success. Nothing like having an ocean bright King Salmon tearing line off your reel at slack tide!
In addition to Brad's skills as a guide/pilot, he and his wife Brenda were incredibly generous hosts. The family atmosphere, good home-cooking, and comfortable accommodations made for a fantastic apres-fish experience. If you're looking for serious fishing, comfortable accommodations, with a first-class family owned lodge - consider Igiugig Lodge.
What's Special about Igiugug Lodge:
Homewater - Located on the Kvichak River, their operation is based on one of the most productive fisheries in Bristol Bay for both salmon and giant rainbows. When weather doesn't allow you to fly, it will not affect your day of fishing. It just might improve it.
Small Group Exclusivity - The lodge is available as exclusive with just 4 anglers.
Serious Anglers Take Note - If you're interested in fishing and fishing hard for a solid week, you've found the right place. If you want to swing for the world's hottest rainbows on the Kvichak with one of Alaska's most experienced guides, Igiugig Lodge.
Price - As a Bristol Bay operation offering fly outs, Igiugig Lodge's week rate sits at a modest $6,200. With special pricing available through us at Fly Out. Questions? Contact Us