Costa De Cocos Mexico Trip Report
Wait - That's not Alaska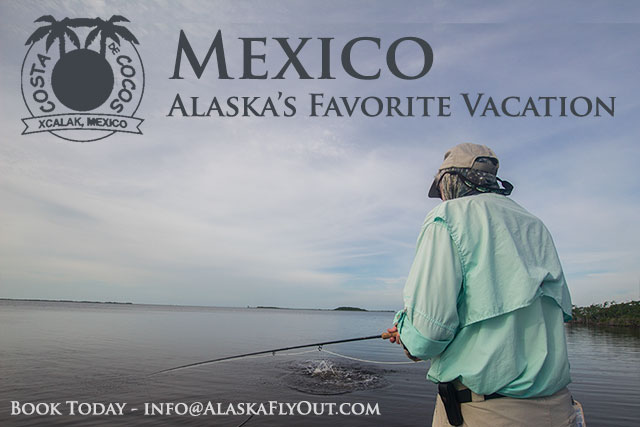 Every year, when the Alaska fishing season winds down, we host a trip to one or two of our favorite international destinations. We just got back from a great trip to Costa De Cocos in Xcalak, Mexico with a group from the Santa Cruz Fly Fishing Club. Although most members of the group are seasoned anglers, all but a couple had any saltwater flats fishing experience. So, we all knew that the first few days would be a crash course on technique, fish recognition, objectives, etc. We were primarily targeting bonefish, tarpon, permit, and barracuda. The bonefish in this part of the Caribbean can get as big as 6 pounds, with most of them averaging between 2-4 pounds. All of the anglers in the group quickly realized what the chatter about bonefish was all about. Very few 20-inch fish in Alaska will rip you to your backing in the first run. Pound for pound, these little monsters are some of the strongest sport fish in the world.
Part of the appeal of fly fishing to me is that it is challenging. Flats fishing for bonefish, tarpon, and permit can be challenging! I don't like "tough" fishing anymore than the next angler, but I can say that I gain much satisfaction during the learning process of a new sport, process, technique, etc - even when I am struggling. I believe all 8 anglers felt the satisfaction of putting everything together this week - seeing the fish, making a great cast, strip set, and landing the fish. That's what it's all about.
For the months of July through November, Costa De Cocos offers a 2 for 1 discount for an all-inclusive package at $2,050 Per Peson (6-Day/7-Night Package). Although this is the tail-end of the rainy season in Mexico, believe me, you will be hard pressed to find this type of value anywhere else. Contact us with questions.
From the Gallery: