Trout Fishing Adventures In South-Central Alaska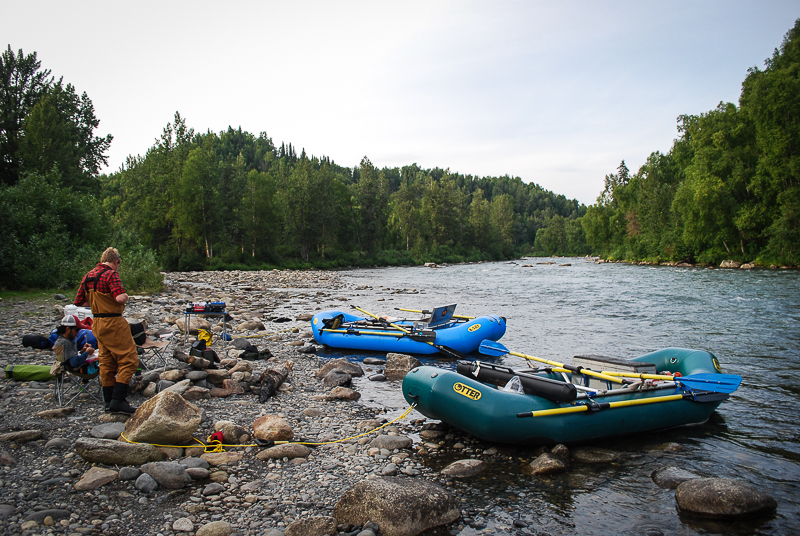 South-Central Alaska holds a very special place in my heart. It was where I first cut my teeth guiding in this great state. The waters of the South Central region of Alaska are often under publicized, and overlooked. For the adventurous angler looking to score some great trout fishing, this region of Alaska is a true diamond in the rough.
River drainages such as the Susitna, Yentna and Copper reach far inland towards the towering mountains and glaciers of Denali and Wrangle-St.Elias National Parks. Eventually, they wind their way south, finding their terminus in the salty waters of Cook Inlet or the Gulf of Alaska. The clear, pristine headwaters that feed these massive systems provide some spectacular fishing for a wide variety of species. The trout fishing in particular is uniquely exceptional, perfectly catering to the angler that wants to try a wide variety of fly fishing techniques. Mousing, nymphing, beads, dry flies, smolt, and baitfish imitating methods are all productive ways to fish for the resident leopard rainbow trout of South-Central.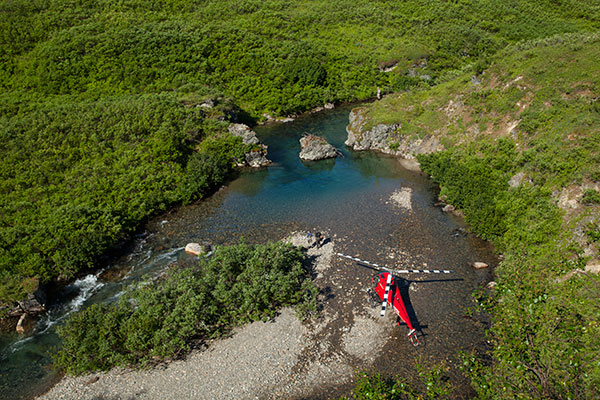 A variety of accommodation styles can be found throughout the region. Comfortable riverside and mountain lodges as well as multi-day remote wilderness float trips are all available to the traveling angler searching for their trout fishing vahalla. Access to many of these rivers is generally floatplane based. After the flight to the main lodge, anglers will then explore the area via jet boat, raft, or even helicopter.
Recently, I contacted a good guide friend of mine, Casper Leffel, to discuss his personal choices regarding fly selection throughout the waters of South-Central Alaska. Casper is a very experienced guide throughout the region. He began his career on Lake Creek, and has since guided on multiple other South-central watersheds including the Talachulitna. Casper is without a doubt a trout addict, and the passion shows in his guiding.
Here are his thoughts regarding fishing the waters of south-central Alaska for trout, and the flies you will want to bring along for your next trip out.
---
For me, Trout fishing is not just about numbers or size, it's about the all around experience. While the river systems of south-central Alaska provide some truly spectacular trout fishing, my favorite aspect of our region lies in the variety of exciting ways that the trout are willing to inhale a fly.
Throughout state of Alaska there are certain staple patterns you'll want to have in your box, and this information is easy to come across. I personally always encourage anglers to experiment and try new methods, as we are all students of the river. With failure comes education, and lets face it, we all can learn a heck of a lot more. When experimenting with new techniques we always will continue to evolve as anglers. Some of the flies I've chosen may seem slightly out of place, but believe me, they can result in some intense action.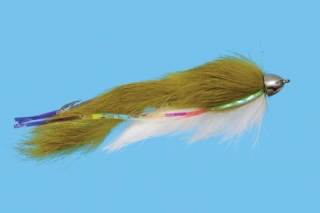 Dolly Llama:
I am a firm believer that this pattern, used in the right color combinations, is easily the best Lamprey pattern on the market. I tie mine using a large heavy tungsten head, bunny strips, flash, and a stinger hook. The heavy head gets the fly where it needs to be, while the bunny and flash produce great natural movement. The profile perfectly matches that of a long wiggly Lamprey, which trout simply cannot resist. My favorite color combos are Olive/Tan and Black/Tan. Fish these on a deep dead drift, occasionally adding some hard strips and twitches along the way.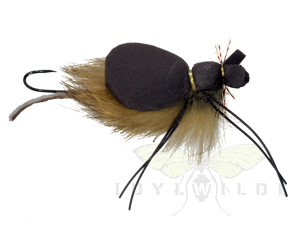 Mr Hanky:
My favorite mouse pattern hands down. When tied correctly it will float all day long, surviving vicious strikes, fish after fish. Mr.Hanky is made up of a 3mm piece of foam tied in along the back, bunny fur, rubber legs, a tail and a little flash up front.
The most important aspect in fishing a mouse pattern is the action. With a tight line, steadily retrieve the fly while subtly shaking the rod hand to achieve the perfect waking action. Mouse fishing isn't always the most productive way to stir up rainbows, but it is easily the most exciting.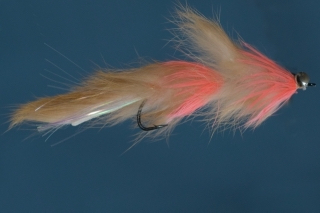 Articulated Flesh:
Trout are gluttons. Each year, the salmon return like clockwork to take on their annual spawning run. Trout cherish this time and love to eat the rotting salmon flesh left behind. My favorite pattern includes a pink or orange bead up front with two articulated shanks palmered in bunny fur. Throw in rubber legs and some flash and your set. This pattern in variations of light tan, or pink and orange also provide some great action.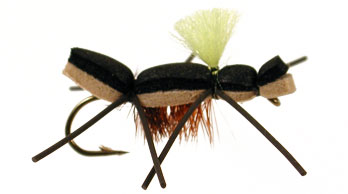 Chernobyl Ant:
I can sense the look of skepticism from here. Rarely do we read about dry fly fishing for Alaska trout. In my experience, summertime flows provide sporadic hatches that don't typically get much response from the majority of the trout. Caddis and mayflies along with a few others tickle the waters surface with little attention. The Spruce beetle however is a totally different story. After a few seasons pondering on this beetle phenomenon, a French client eventually asked me about trying a Chernobyl Ant. A smirk lit up my face, and we went for it. Boom..... a healthy 4 pound rainbow simply could not resist. Over the next few seasons, I experimented with many different big bushy dry flies, eventually landing back on size 4 Chernobyl. Skate it off a logjam anywhere in south central and hold on.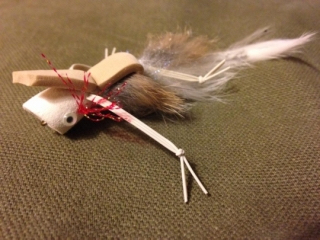 The Mouse Popper (aka the Mopper):
Fellow guide Nick Seiler was the one who introduced me to "The Mopper." In our South-central river systems, trout will hammer down on unsuspecting mice crossing the river throughout the entire season. We determined that the surface disturbance of a mouse pattern is specifically what the trout key on the most, as opposed to the size and profile of the fly. A popper is made to move a lot of water and make a lot of commotion, all key traits when trout or keying in on mice. On the Talachulitna River and its tributaries, we found that fishing a popper can entice some large bows to the surface, and result in some extremely aggressive takes. While not a big producer number wise, strikes on the Mopper will remain burned in your memory.
To prove this point even more, a few years back I actually witnessed a large rainbow eat a baby shorebird carcass I found on the riverbank. I found this little bird dead in the water and tossed it off the edge of a logjam. Hardly a second passed by before the five-pounder shot up and inhaled the bird, disappearing back into the depths. Keeping in mind that disturbance is the key, I encourage everyone to try and entice these massive trout on their own flies this summer.
Looking to get into some of this fantastic trout fishing? Below are a few lodges that would be sure to fulfill your fishiest of needs. Prime time dates always tend to fill up fast, so feel free email or call us or email anytime to assist in planning your next Alaskan fishing excursion. We look forward to hearing from you.
---
Lee Kuepper is professional guide now calling the Kenai River home. He is a co-owner of Alaska's Angling Addiction, chasing the Kenai's monster kings and fabled trout on a regular basis. He is also a member of Loop USA's prostaff and a Certified Fly Casting Instructor through the FFF.
Edit