Fishing the Springtime Smolt and Fry Migration in Alaska
Alaska's Other Peak Season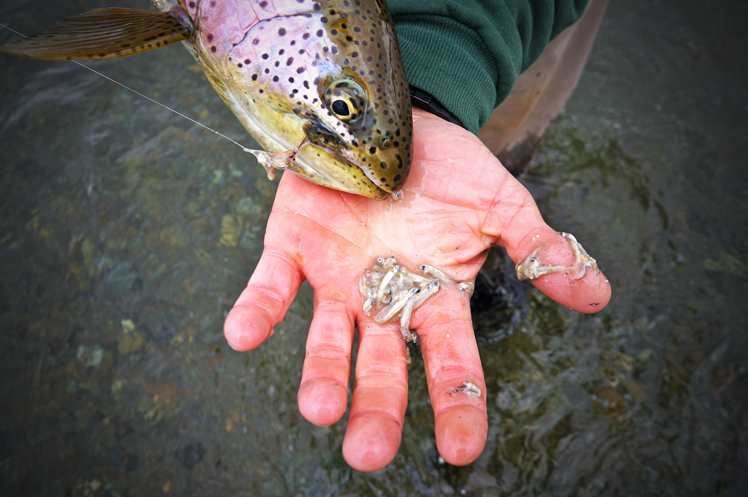 Recently I had a discussion with a good friend of mine, Anthony Carruesco, regarding the unique and exciting fishing that we have each year in Alaska. We both were reminiscing on the springtime baitfish migration, agreeing that it can provide some of the most spectacular fishing for the big red-sides of Alaska.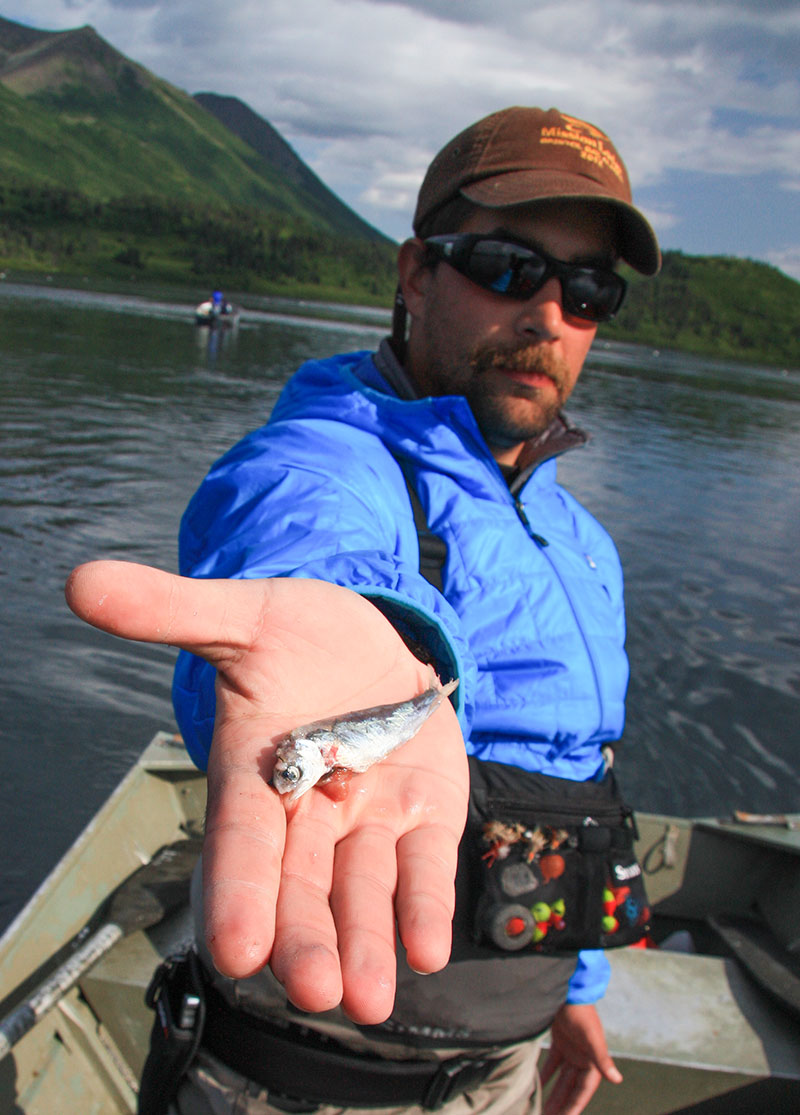 Every river that has a salmon run, will also have a baitfish migration at one time or another. Specifically, river systems with heavy sockeye salmon returns provide some of the greatest near surface streamer fishing found anywhere in the world. As the snow melts, and spring starts to become summer, the fragile aelvin stage salmon begin to take shape. Now considered "fry," they move from their natal hatching grounds towards the lakes where they will grow before migrating to sea.
Not only do the fry stage salmon move during the Alaska spring, but various species of salmon "smolt" also migrate towards their salty feeding grounds, where they will spend a few years growing before returning back to their home water to spawn. Depending on the species, the "smolt" will vary in size and coloration, but in general they are larger than their "fry" cohorts.
Getting your fly hammered by trout that are acting more like a school of saltwater tuna is some of the most exciting trout fishing on the globe. Soft hands need not apply as there are no soft strikes here, every fly gets hammered, nearly pulling the rod out of your hands every single time. At times it can be slow, and patience is a must. But if you are positioned correctly, and the fish gods smile down upon you the way they sometimes do, you are in for the ride of your life.
Here is what guide Anthony Carruesco had to say about the fry runs he has experienced through his years guiding Alaska's waters, and the techniques employed to take advantage of them.
---
Most people who come up to Alaska to fish for big rainbows think the only time of the year to put the hammer down is when the Sockeye are in dropping eggs throughout August and September. While the egg drop does make for some silly good trout fishing, fishing the early season fry migration in June is some of the most exciting fishing we see all summer. As the young Sockeye fry begin to move around, rainbows concentrate in specific parts of the rivers and lakes in preparation to intercept the chokingly thick, pulsing mass of protein.
Low light periods prompt the fry to move downriver and if you pay attention to "choke" points in the river, lake inlets/outlets for example, there is probably a pretty good chance you will see boiling fish slashing at the bait balls. The river is seemingly filled with feeding fish producing big boils for as far as the eye can see. It's quite the spectacle to behold. . Fishing during these windows is AWESOME. You'd swear the fish are taking dry flies off the surface.
Remember, these small fry migrate very close to the surface, so when the rainbows pod up and begin to chow down, grab a Thunder Creek and get swinging. Keep it about an inch or two below the surface in the general area where you see the boils and hold on. The key to the Thunder Creek is that it's tied sparsely and only sinks an inch or two max. Your fly needs to be close to the surface to fool a fish that's locked into fry.
---
Looking to cash in on this unique time period? Below is a list of the great lodges that are perfectly positioned to take advantage of this spectacular phenomenon each spring. Remember, these time periods are very short. Sometimes the baitfish specific bite may only last for a week. So make sure you make your reservations early to lock in your spot. If luck is on your side and you hit it just right, you will be sure to experience some of the most exciting trout fishing of your life.