Via sportsmansalliance4ak.org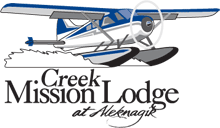 Alaska veterans and active duty soldiers are about to embark on a dream fishing trip – even by Alaskans' standards.

Bristol Bay Native Corporation will host eight veterans and soldiers to go on a five-day, all-expenses-paid trip to its Mission Lodge, an upscale fishing lodge located in Aleknagik, near Dillingham, Alaska. BBNC also will award internships to top students of the Bristol Bay River Academy, which is operated by Trout Unlimited and provides

sportfishing guide and conservation training to youths – mostly Alaska Natives – in the Bristol Bay region.

The Anchorage chapter of Project Healing Waters is coordinating with the disabled veterans, some of whom remain on active duty. PenAir is providing the veterans with air transportation out of Anchorage. The trip will take place June 18-22.

The veterans will stay at the Mission Lodge, and will travel by float plane to several world-class sportfishing areas in the Bristol Bay region. Graduates of the Bristol Bay River Academy will guide the veterans. King salmon are returning to the waters of Bristol Bay, and fishing should be excellent.

"The Mission Lodge and local Bristol Bay fishing opportunities offer the perfect environment to help military personnel take in the natural beauty of Alaska," said Jason Metrokin, president and CEO of BBNC. "It is a place for reflection and peace, not to mention some of the best fishing in all of Alaska. We are proud to be able to support our veterans."

"Trout Unlimited is pleased to help support this opportunity to show our appreciation to wounded warriors who have put their lives on the line for our country," said Tim Bristol, director of Trout Unlimited, Alaska Program. "Bristol Bay offers spectacular sportfishing and we're excited to have graduates of our Bristol Bay River Academy team up with these veterans to fly-fish together and offer instruction where needed. We're very proud of both our graduates and our vets, and it's a special thing to have them pair up, especially here, home to one of the great wild fisheries left on the planet."

The veterans and soldiers who are participating are actively involved with Project Healing Waters. The program seeks to aid disabled active duty military personnel and veterans recover physically and emotionally through fishing opportunities and skills workshops focused on activities such as fly-tying and casting.

The veterans and soldiers were invited on the Bristol Bay trip as a way to thank them for their service, said Laura Orr, soldier and public relations manager with Project Healing Waters. "They are so excited right now."

Orr said she has personally seen success stories thanks to the program. "I've seen people who were depressed, have just about given up," she said. "Then they try this and they have that 'Aha!' moment. Now they are open and friendly. It really helps them relax and make good memories again. Seeing that moment is amazing."

No video selected.