Bristol Bay Lodge
Bristol Bay Sport Fishing Lodge
Video
Fishing Program
Over the 33-year history of Bristol Bay Lodge they have been able to assess exactly what their guests want and have designed a fishing program that maximizes the opportunities in terms of variety of rivers fished, species caught and methods of fishing during any given week. If you want to catch the same species all week long, Bristol Bay Lodge is not the lodge for you because our program does not provide for this. However, if you want the full Alaska experience, seeing lots of different rivers and catching many species in one day (and often as many as you could handle in one day or even a week), go to BBL! There are many choices on a given day. We believe that with the quality of fishing we enjoy, Bristol Bay Lodge guests deserve variety and a broad experience of what Alaska, at her best, has to offer!
Each day's fishing is scheduled the evening before and the destination board is posted showing your pilot, guides, destination, species available, time of departure and your fishing companions for the day. This allows you time for conversing with guides, manager Steve Laurent and pilots so that you can fine-tune tackle, flies and preparations for the following day's adventure.
River Systems – Nushugak River Drainage, Wood River Lakes System, Togiak River Drainage

Fish Species – Rainbow Trout, 5 Species of Pacific Salmon, Arctic Char, Arctic Grayling, Northern Pike
Accommodations & Dining
Catering to up to 26 guests per week who desire the finest freshwater angling available, the lodge's well-appointed facility offers casually elegant wilderness living filled with creature comforts and an atmosphere of camaraderie. The main lodge houses our completely equipped professional kitchen, the dining room, our large living room with bar area, the library and a huge fly tying bench laden with everything one needs to tie quality flies suited to the surrounding rivers. The famous see-through fireplace is fronted by a panoramic view of Lake Aleknagik.
Bristol Bay Lodge has eight bedrooms in the main lodge as well as a fully equipped fly and tackle shop. Guests can arrive with nothing but a waterproof jacket and be fully outfitted. In warm weather the lodge's decks are the favorite gathering places for appetizers, cocktails and weekly barbecues. The hot tub and sauna get lots of use after fishing – relaxing sore muscles. Set around the lodge, but private in every regard, are four cedar cabins, often used for small groups or families. Each cabin is different offering its own character, yet all offer scenic views of Lake Aleknagik, slightly fragrant with the scent of cedar as you would expect of true wilderness cabins.
On the map
Fill in your address into the address field below the map and the shortest route will be calculated.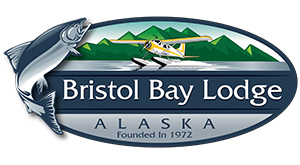 Rates
$9,850 Per Person 7-Day Package Half Week Packages Also Available Rates Subject to Change
Included
All Meals, Lodging, Fully Guided Daily Fly Fishing Excursions, Transportation Between Dillingham and the Lodge
Not-Included
Terminal Tackle, Flies, Lures, Lines, Fishing License, Gratuities
Operation Type:
Fly Out Lodge
Aircraft & Boats
3 - De Havilland Beavers and 20+ Jet Boats
Activities:
Fly Fishing, Conventional Gear Fishing, Wildlife Viewing, Flight Seeing, Photography
Capacity
26 Guests
Amenities:
Hot Tub, Sauna, Bar Service