Talaheim Lodge
Alaska Range Sport Fishing Lodge
Video
Fishing Program
At Talaheim Lodge fishing is the specialty. Although changes have been made over the years to enhance growth in the business, Talaheim has never done so without considering the way it would affect the fishing standards. And they've got high standards…
At Talaheim Lodge, their main business is to deliver a top notch Alaska Fishing Adventure. Bush-planes are a wonderful way to travel, but their accessibility is limited to streams with enough water depth, or gravel bars with sufficient runway length. While most Alaska fishing adventures utilize bush-planes as their means of transportation, at Talaheim they Heli-Fish. Talaheim Lodge is the only Alaska fishing adventure with two helicopters for their guest's exclusive use. We like to call this type of adventure, "fishing Alaska, New Zealand style".
Fish Species – Rainbow Trout, 5 Species of Pacific Salmon, Arctic Char, Arctic Grayling, Northern Pike
Accommodations & Dining
Located 80 miles west of Anchorage, along the eastern slopes of the Alaskan Range, a cluster of beautifully crafted log cabins can be seen just prior to landing at Talaheim's Alaska Fishing Lodge. After landing on the private strip, guests walk down the path to our main lodge before checking into their personal log cabin. Cozy and rustic in design, yet equipped with all the modern conveniences, Talaheim has three private log cabins for their guest's exclusive use.
Talaheim's Alaska Fishing Lodge offers family-style gourmet cuisine seasoned with an Alaskan wilderness flavor. Guests enjoy breakfasts and dinners served at the main lodge, while lunches are served stream-side, either picnic style or around a campfire.
Filet Mignon, wild berry tart, grilled Teriyaki chicken, moosemeat Shepard's Pie, homemade breads and cereals, and of course a wide array of Alaskan salmon, halibut, and cod grace Talaheim's dining room table daily.
On the map
Fill in your address into the address field below the map and the shortest route will be calculated.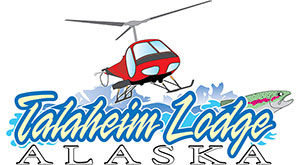 Rates
$7,800 Per Person for 7-Day / 6-Night Package Shorter Duration Stays Available Rates Subject to Change
Included
Personal Fly Fishing Guides, Meals, Travel from Anchorage to Talaheim, Lures, Flies, Rods
Not-Included
Gratuity
Operation Type:
Helicopter Lodge
Aircraft & Boats
2 - Helicopters
Activities:
Fly Fishing, Conventional Gear Fishing, Hiking, Wildlife Viewing, Flight Seeing, Photography, Glacier Trekking, Rafting
Capacity
8 Guests per Week
Amenities:
Hot Tub, Sauna, Hot Water, Fly Tying, Library, Wi-Fi Internet, Bar Service