Crystal Creek Lodge
Bristol Bay Sport Fishing Lodge
Video
Fishing Program
The Rainbow Trout of Alaska are fish of legend. The Naknek River and streams of the surrounding Katmai National Park region offer the finest Rainbow Trout fishing in the world. Crystal Creek Lodge is on the Naknek River and very close to other famous rivers and streams of Katmai. Accordingly, Crystal Creek Lodges' fishing program focuses on the pursuit of Rainbow Trout while walk-wade fly-fishing. Most rivers and streams fished are clear-flowing and gravel-bottomed, and are of a size easily wadeable.
Five Species of Pacific Salmon run the local rivers by the millions and they are thus available in prolific numbers. One or two species of salmon are available in peak configuration during any week of the season (see Yantarni Salmon Camp for September salmon fishing). Some weeks in July offer four or all five species of salmon to be caught. King Salmon fishing for fish up to 40 lbs. is done by troll or drift fishing on the Nushagak or Naknek Rivers.
Fish Species – Rainbow Trout, 5 Species of Pacific Salmon, Arctic Char, Arctic Grayling, Northern Pike
Accommodations & Dining
Five guest rooms are within the main lodge, all have private baths. Four rooms have either two full-size beds or one queen and one full, and one room has a king sized bed.
Two private cabins are also available. The cabins are made of massive logs and river rock to match the lodge. Within each cabin are two bedroom suites, each with a queen bed and private bath. Each cabin has a loft with two twin beds and a third bathroom. Each cabin has an indoor sitting area and a covered outdoor porch overlooking the Naknek River. The cabins are 75 feet from the main lodge and are connected by a boardwalk. The riverside hot tub is only 35 feet away. The cabins can be reserved at extra cost by gentlemen desiring private bedrooms or by families. The food philosophy is simple and generous at Crystal Creek Lodge: gather the highest quality ingredients available, then prepare and serve delicious meals. We feel the flavors of quality ingredients carry the meal better than heavy sauces.
Foods from the land and of the seas surrounding Alaska are featured whenever possible. Crystal Creek buys fresh garden vegetables, herbs and potatoes from Alaska farms, as well as fresh Alaskan salmon, halibut, Black Cod, King and Dungeness Crab, Kachemak Bay oysters, Spot Shrimp and scallops. They also love land meats and feature beef, chicken and pork prepared in a variety of fashions and served alongside the seafood. Being at the apex of the Pacific Rim, the lodge will feature Asian and West Coast culinary influences more often than those of continental Europe.
On the map
Fill in your address into the address field below the map and the shortest route will be calculated.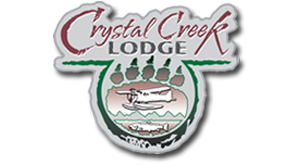 Rates
$11,400 pp 6-Day/7-Night Package $8,800 pp 4-Day/4-Night Package Rates are Subject to Change
Included
Guided Fishing/Hunting Activities, Accommodations, Daily Houskeeping, Laundry Services, All Meals, Transport between King Salmon Airport and Lodge, Chest Waders, Rods, Reels, Flies, Lures, Airline Approved Fish Box
Not-Included
Airfare to King Salmon from Home, Gratuities, Liquor, Fishing Licenses, Massage Therapy Services
Operation Type:
Fly Out Lodge
Aircraft & Boats
4 - De Havilland Beavers, Jet Boats, Inflatable Rafts
Activities:
Fly Fishing, Conventional Gear Fishing, Hiking, Wildlife Viewing, Flight Seeing, Kayaking, Hunting, Ocean Tours, Rafting
Capacity
14 Guests
Amenities:
Hot Tub, Wi-Fi Internet, Bar Service, Spa/Massage