Alaska Wilderness Safari
Alaska Peninsula Sport Fishing Lodge
Video
Fishing Program
Alaska Wilderness Safari is not your typical Alaska fly fishing lodge. There are no fine paintings, no fancy carpet, few formalities and NO CROWDS. On the remote Alaska Peninsula location you won't fish near fishermen from another lodge your entire week.
One of the truly extraordinary aspects of Alaska Wilderness Safari's coastal Peninsula location is the different types of waters they fish throughout the week. You can experience phenomenal small stream fishing in the morning, sight cast to salmon on tidal flat or beach after lunch, then spend late afternoon in the bay to catch the halibut that you'll eat for dinner.
Then, on top of all the diversity in fishable water within the local bay system, at the end of the week you can access even more amazing water with the helicopter fly-outs.
Accommodations & Dining
Let's face it. We have traded off the plush comforts of the typical Alaska fly fishing lodge for a pristine setting in the middle of nowhere. Alaska Wilderness Safari is in an area where the coastal brown bears easily out number the fishermen and rugged mountains stretch as far as the eye can see. There are no-name rivers teeming with countless numbers of chrome-bright salmon and sea-run dolly varden eager to take your fly. Yet in spite of their extreme location, the camp still has all the essentials of a comfortable retreat to enjoy after each fulfilling day on the water.
At Alaska Wilderness Safari, dinner reads like a gourmet menu – almond crusted salmon with citrus glaze, creamy alfredo pasta and garlic crustinies; New York strip steaks with mushroom sauce and baked potatoes; halibut fish tacos (a camp favorite) with pico de gallo, charro beans, Spanish rice (and our famous wilderness margaritas); roasted pork loin with apple poblano chutney, wild rice and braised red cabbage with port wine. Each main entrée is often complemented with wild Alaska salmon or halibut just minutes from the water. Green salads, vegetables and homemade bread complete the meal, but delicious deserts like molten chocolate brownies, canolis, and carrot or tres leches cake, will surely satisfy your appetite. The bar is well stocked and the wine flows freely.
On the map
Fill in your address into the address field below the map and the shortest route will be calculated.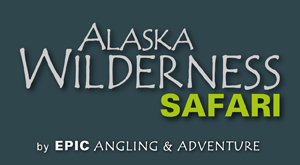 Rates
$5,650 Per Person 7-Day Package (Mid Season) $6,950 Per Person 7-Day Package (Late Season) Rates are Subject to Change
Included
Round Trip Air Charter from King Salmon to Camp, 2-Day Helicopter Fly Out (Late Season), 6-Days of Guided Fishing, Deluxe Camp Accommodations, Meals, Limited Open Bar, Flies, Lures, and Terminal Tackle
Not-Included
Optional Days of Helicopter Fly Outs, Transportation to King Salmon, Fishing License, Personal Fishing Equipment, Gratuity
Operation Type:
Wilderness Lodge
Activities:
Fly Fishing, Conventional Gear Fishing, Hiking, Wildlife Viewing, Flight Seeing, Photography
Capacity
9 Guests per Week
Fly Out Tip
The location of Alaska Wilderness Safari makes this lodge special. Enjoy the remoteness of a genuine fishing adventure amidst the wild frontier that Alaska embodies. Also, the heli-fish fly outs are an incredible bonus!
Amenities:
Hot Water, Bar Service