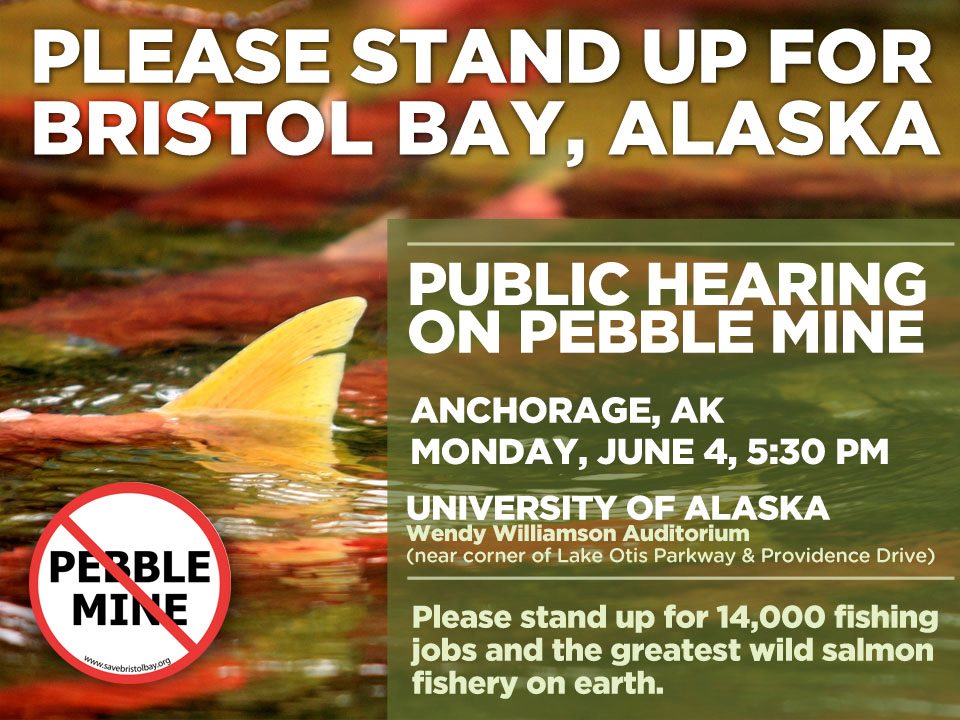 Public comments & EPA draft assessment - May 31,2012 - Seattle, WA
Regarding Section 404C Clean Water Act
Dennis Mclerran, the EPA Region Administrator, introduced the Watershed Assessment process and the goals for public participation. Rick Parkin, the EPA Manager for the Bristol Bay Watershed Assessment and the tribal liaison gave a Power Point presentation Executive Summary. He showed that through the literature review process, his visits to the site, and liaison with the Bristol Bay tribal entities, that he had a good grasp of the issues
The list of speakers with very compelling and impassioned testimony included Peter Andrews, Dillingham BBNC board member, Larry Barret Director of operations for Sage, Rio, Reddington, Joel Reynolds NRDC, Jim Klug Yellow Dog & AFFTA and so many more.
Huge numbers of commercial fishers and Alaskan native residents gave passionate comments. Three to four of us spoke representing sport fishers. About 95% of the comments were pro conservation, 5% were pro development- (by appearance all pro development speakers were on the payroll of Pebble with the exception of 1 pro development Alaska native from Nondalton and 1 from King salmon who may or may not be on the payroll),
Of the 95% pro-conservation comments about 5% of us were commenting on the science behind the assessment. I (Mark Rutherford) spoke to the impacts on the fresh water (salmon spawning & rearing) resources by the various proposed slurry pipelines, electrical transmission lines, & haul roads. Thomas Quinn, University of Washington, reported that the fishery and biologic data strongly support protection of the fresh water resource rather than remediation. David Kerlick, a theoretical and computational physicist, critiqued the "failure analysis" data used by the EPA suggesting it is too conservative. Richard Leeds, Wildlife Forever, spoke about the importance of "Hydrologic Interconnections" and "Connected habitat". Robert Wisnar (not sure the spelling) retired University of Washington professor suggested the Bristol Bay ecologic/ hydrologic systems may not have the "resilience" to sustain a robust fishery in the face of mine development of this magnitude. Pete Modaff Senator Cantwell's aid spoke of the Senators deep concerns for the fishery, and the environment it depends on, and the health of the fishing industry.
Many dozens more (80 total) made comments we all can be proud of! There were several ovations after impassioned conservation comments. It was an inspiring public hearing.
To the EPA's credit, their findings strongly support EPA intervention through a 404C veto of the project.
Alas if it were only that simple. Great cheer nonetheless.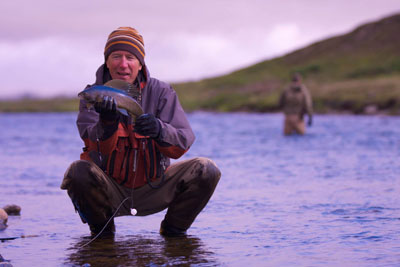 Mark Rutherford has over 34 years of fly fishing experience in Alaskan rivers and a Masters in Education in Alaskan Aquatic Ecology, Mark is in the 99'th percentile of the most experienced fishing guides in Alaska. He is regarded by several authorities as one of the finest boat handlers in Alaska. Mark specializes in first descents of small wilderness salmon streams and tributaries exploring for rainbows, cohos, kings, & char. Mark is the owner and head guide for Wild River Guides.