Mission Lodge
Bristol Bay, Alaska Sport Fishing Lodge
Video
Fishing Program
Mission Creek Lodge utilizes the various fisheries while they are in their prime. They do this by flying you and your group out to different rivers and streams depending on the species that you are interested in.
Each evening prior, they confer with you to see what kind of experience you are up for. The guides will then get the necessary gear put together in our tackle room. The next morning after breakfast you board one of the float planes and head out with a guide (or to a spike camp with a guide waiting) to one of the many world class, and in some cases world famous, rivers and streams of our region. Depending on the location the lodge will have jet boats to take up and down the river to fish from or get you to different gravel bars for wading.
Whether you have been to Alaska twenty times or this is your first time, Mission Lodge will be an unforgettable experience of great fishing, unsurpassed comfort and most importantly – FUN!
River Systems – Nushugak River Drainage, Wood River Lakes System, Togiak River Drainage, Kulukuk River, Illiamna Waters

Fish Species – Rainbow Trout, 5 Species of Pacific Salmon, Arctic Char, Arctic Grayling, Northern Pike
Accommodations & Dining
Easy access, deluxe facilities and unsurpassed trophy fishing make Mission Lodge, the classic Alaska fly out lodge experience. Sauna, Hot tub, sumptuous dining, a comfortable lounge and recreation area are added features of Mission Lodge. A large deck surrounding the facility is just steps from the dock, float planes and boats. Large bay windows frame views of Lake Aleknagik and the beautiful mountains beyond.
We are one of the only lodges in Alaska where a private room is standard. You will sleep on a real bed (not a foam pad on plywood), your window looks out over the lake and the bathroom is just steps away in the lighted hall. Most importantly, you don't have to listen to Uncle Joe snore all night (or he does not have to listen to you). For couples, we have special suites that have a private bath in the room.
On the map
Fill in your address into the address field below the map and the shortest route will be calculated.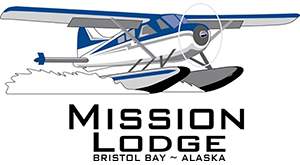 Rates
$8,925 pp 7-Day Package Rates Subject to Change
Included
Transport from Dillingham, All Meals, Beverages, Accommodations, Guided Daily Adventures, Fly Outs, Fishing Gear, Waders, Rods, Reels, Airline Approved Fish Box
Not-Included
9% City Sales Tax, Fuel Surcharge, Gratuity, R/t Air Transportation to Dillingham, Alaska Fishing License, Alaska King Stamp, Massage, Gift Shop Items, Smoked Fish
Operation Type:
Fly Out Lodge
Aircraft & Boats
3 - De Havilland Beavers
Activities:
Fly Fishing, Conventional Gear Fishing, Hiking, Wildlife Viewing, Bear Viewing, Photography
Capacity
20
Amenities:
Hot Tub, Sauna, Fly Tying, Tackle Shop, Library, Wi-Fi Internet, Bar Service, Spa/Massage