By Fly Out Ambassador Mark Rutherford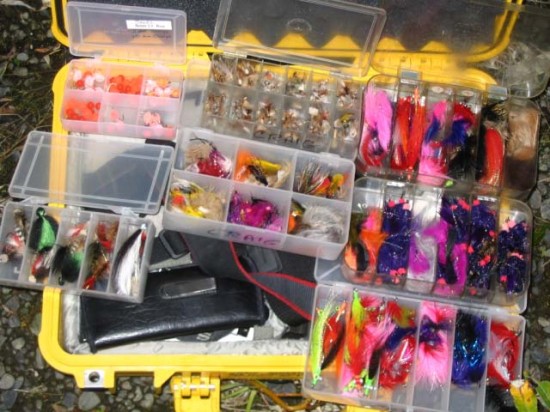 July Fly Patterns for Bristol Bay, Alaska
It is so much more complex to stock your Alaska fly box for July than for June or August! A great deal more total feed is available to resident fish in July than in June including fry of salmon, trout, char, and Grayling. There are Caddis, stone, & mayfly nymphs, plus salmon spawn and a bit of flesh late in July. While I have not seen stickleback in July, occasionally small Lamprey are present and Sculpin are pounced upon with enthusiasm. In July forage diversity is at the seasonal apex.
In mid July, adult sea run Dolly Varden Char begin to return to the rivers. In the last week of July a weather transition can begin bringing autumn storms. Finally you need Coho / Silver fly patterns in late July. All 5 Salmon can be present after Coho arrive yielding the Pacific salmon "Grand Slam".
Flies for 1 person for 1 week.
Here is a multi species list, with an emphasis on resident Rainbow Trout, Dolly Varden, Arctic Grayling, King and Sockeye Salmon plus patterns for Chum and Pink Salmon, early Coho / Silvers, Arctic Char, Lake Trout, and Northern Pike.
As anglers we are participating in an explosion in fly pattern creativity as fly tiers experiment with different materials and profiles. Simply stocking the July fly box with Leeches is a challenge. But with such a huge variety to choose from it's unreasonable and unnecessary to try to carry them all. Pick two or three leech patterns with varying amount of weight and differing profiles and articulation. Then fish them carefully and deep. The same is true for Sculpin patterns.
Trout, Char, and Grayling.
The Bristol Bay is the finest completely intact, functional, wild salmonids fishery in the world. The flies listed are proven for the Bristol Bay region but of course they are not the only patterns that work. When possible, tie or buy your patterns articulated or with stinger hooks for a significantly higher ratio of total fish landed (with less damage to fish mouthparts than traditional streamer hooks.) In the Bristol Bay region, please release all Rainbow Trout regardless of whether the Alaska Department of Fish and Game allows retention. It takes 7-10 years in cold Alaskan waters for a trophy trout to grow beyond 22 inches. Fresh Sockeye, Lake Trout, Dolly Varden, Arctic Char, and Grayling might be kept to provide your fine dining.
48+ Trout Flies
Sculpin patterns. Choose among various Sculpin patterns keeping in mind some overlap exists with leeches: Sculpzilla, Cone head, Rag, Woolhead, Dali Lama, Exasperator, Loop, etc. Choose colors- olive and black and include some with contrasting red, green or purple accents. Size # 4-6-8. Bring 6+ total of two or three proven patterns.
Leech patterns. There are outstanding leeches available commercially and infinite variations if you tie. Choose among: Loop, Articulated Bunny, Sleech, Lead Eye, S&B Super string, Intruder, Starlight, etc. Colors: solid purple, olive, black plus some with contrasting colors. Sizes #4-6-8. Bring 6+.
Starlight leech. Color white for Lake Trout and Char and as flesh late in July. Consider them.
Haymaker Leech size #1 black or blue. Consider them.
Conehead Eggabou size #4. Bring 2.
Signature Intruder, Moal Rhoid, or Al Green size #8. Bring 4.
Dali Lama, Black & White, #6 Bring 2.
S&B Super string leech, consider a selection of S&B Super string leeches. Bring 2+.
Mice, Choose among Mr. Hanky, Loco, Preparation H Mouse, Moorish Mouse, Blair, Darth Skater. Bring 1 small bottle silicone floatant (not dry silica) for Mice and Caddis. Bring 4.
Wooly bugger patterns in Olive, Black, Brown, size #4-6 bring 4.
Trout beads. The Salmon spawn begins. 8mm for Chum, natural roe, glow, egg yolk, orange clear. Mottled beads in gold, mango, peachy etc with egg hooks. Bring a kit purchased for the precise species of salmon spawning in your week for your rivers, of the specific Alaskan region you'll visit. Consider sliding beads up the leader ahead of your Sculpin!
Glo bugs. Truthfully they no longer belong in your Alaska kit. Beads are much more effective with a fraction of the mortality caused by Glo bugs. Trout all too often inhale Glo Bugs and similar roe deep in the throat before becoming hooked. Then they die.
Fry. Smolt patterns are not as important as in June when those baby salmon (true smolt) were out-migrating each evening and holding in deeper water by day. However you will see increasing numbers of salmon, trout, and Grayling fry that rear in the log jams and sloughs feeding on "drift" as the weeks pass. Our tendency is to cast leeches & sculpin into the woody debris and overlook fry patterns, but there are days when if you are not dead drifting a fry pattern you are simply not catching fish! Fry need to be part of your July searching process. Choose the Stinger Clouser, Strung out Thunder Creek, Neil Creek Dart, Neil Creek Slider. They can be fished as dropper, streamer, or dead drifted under an indicator! Green & gold. Bring 4+.
Nymphs, Size 12-16 Copper Johns, Bead Head Pheasant Tail, etc. Bring a mixed one half dozen. Fished as dropper behind a leech (where legal) while searching for fish or under an indicator. You probably won't get lots of use of your nymphs. However if you are fishing the few "known" rivers with dependable aquatic insect hatches like the Copper or Agulukpak bring 3 dozen nymphs. Years go by when my nymph box doesn't come out in July unless it's cold and I'm desperate for Grayling.
Dries, Royal Wulff, Parachute Adams, Elk Hair Caddis, PMD Parachute, X-Caddis, Stimulator sizes 12-14. Bring a mixed one half dozen in a box shared with nymphs unless you are fishing the few "known" rivers with highly dependable hatches like the Copper or Agulukpak then bring 3 dozen dries. High floating, high visibility. Colors tan, brown, black, olive. As with nymphs in Alaska you may never even take these out of your gear duffle.
Total flies 48.
SALMON FLIES
My presumption is that King and Sockeye salmon are going to be targeted as well as Rainbow, Grayling, & Char. This list "Over Weights" flies for Kings because in North America there is nothing that even comes close to the power and strength of a King except perhaps a sturgeon. Certainly no fish porpoises across a small cold wilderness river like a Chinook.

No video selected.